The surprising reality of owning and operating a brothel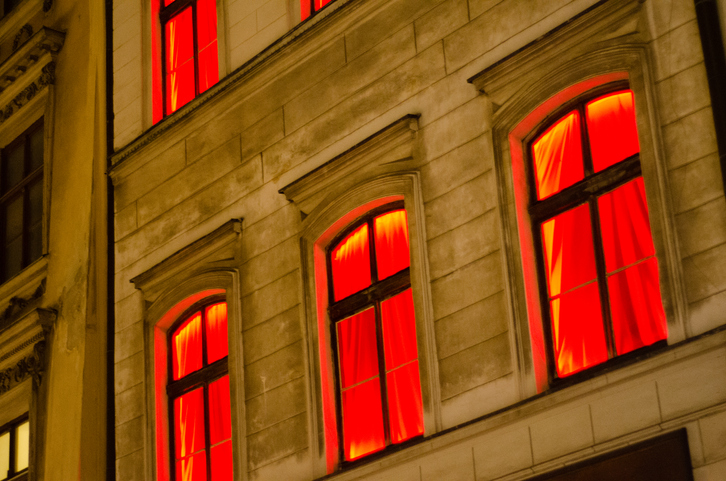 If you've only ever seen brothels in movies, the word might conjure up Nicole Kidman on a trapeze swing à la Moulin Rouge! or a scene out of Belle de Jour.
Or maybe you're picturing something closer to Underbelly that's more seedy than glamorous.
But according to industry figures, running a successful brothel isn't the risky business – no pun intended – that it's portrayed to be.
Rod Olsen has co-owned a busy brothel, Club Pleasure in southeast Melbourne, since 2013, and used to manage it. He said the day-to-day operating of the business is much more "boring" than most people think.
That's because the sex industry in Australia is tied up in red tape, with sex service premises facing fines and closure if they don't carefully follow a strict set of rules.
"You have to jump through hoops every year to keep your license," Mr Olsen said.
"There's all the hoo-ha to go through with the council to ensure you meet all the guidelines – a maximum of six rooms, so many car parks per room, buzzers in every room, that sort of thing."
While all brothels must be licensed, registered, and receive council planning approval to operate lawfully, the exact regulations around running one differ between states, territories and even local government areas.
For example, Victorian brothels can have up to six rooms and aren't allowed to serve alcohol, whereas in New South Wales, the limit is five rooms and alcohol is permitted.
In Victoria, brothels must also be located at least 100m away from residences and 200m from schools, hospitals, and churches – although that's set to change at the end of the year as the government gradually relaxes laws, including planning controls and licensing requirements.
Because of the stringent zoning laws, brothels often operate in secluded industrial areas, such as 40 Forge Street, a warehouse in Sydney's west with a 20-year-old brothel as the only tenant that's currently on the market for $3.5 million.
And in Western Australia, South Australia and Tasmania, brothels are entirely illegal – though bordellos get around the prohibition by billing themselves as escort agencies, which are technically not banned.
'Raids' aren't uncommon
To ensure the rules are being followed, officers from the health department and the council often make surprise visits, Mr Olsen said.
"We used to call them raids because you wouldn't know when they were coming, and then they'd just all of a sudden come at once," he said.
"They shut the doors, everyone inside has to lock down, and then they go and check everyone's visas and work permits and make sure all the regulations are being met as far as hygiene and that sort of thing.
"It can be quite intimidating, but there were never any issues whatsoever."
Because it's illegal for brothels to advertise for workers, he added it's often difficult to find staff, and job ads must be worded creatively to comply with the law.
"We had to be clever, and a lot of the time we'd get staff by word of mouth."
Workers at his brothel take home 60% of their earnings, with the remaining 40% going to the business, and Mr Olsen said they're paid bonuses if they hit their KPIs, "just like any other job".
Opening hours are between 10am and 2am, with workers doing eight-hour shifts and bookings ranging from 20 minutes to an hour.
"We tried to work out the statistics and when it was busiest," he said.
"If it was raining, we would get a lot of tradies come through, and in the evenings, we'd get people on their way home from work, and then late at night, guys who've had a few drinks with their mates would come past.
"But it all seemed to even out, no time or day was better than any other."
The stigma that persists
There are many presumptions about the sort of people who frequent brothels, and most of them are wrong, Mr Olsen said.
"People who go to brothels aren't like everyone thinks, it's not the unsavoury type of person – it's judges and lawyers and suburban dads," he said.
"Most clients are just normal people."
And the same is true for the women employed at brothels, he added.
"They're your friends, your sisters, people you wouldn't even guess would work at a brothel. They're such nice women."
Oftentimes customers aren't after sex, either: "A lot of it is just companionship and cuddles and talking to someone."
The stigma surrounding brothels might be lifting, at least for property buyers, with at least one survey finding most people would prefer to live next to a brothel over a noisy pub or main road.
Since the Covid pandemic, several buildings housing brothels have gone on the market as refurbished as offices, accommodation and community spaces, such 11 Cava Close in Cairns, which was bought by Autism Queensland to become an educational centre.
Ultimately, a brothel is "just another business" and shouldn't be treated any differently, Mr Olsen said.
"It's frowned upon by a lot of people who don't understand what it's about."
---
Like us on Facebook to stay up to date with commercial property news: