The Australian-first business mixing business with babies, BubbaDesk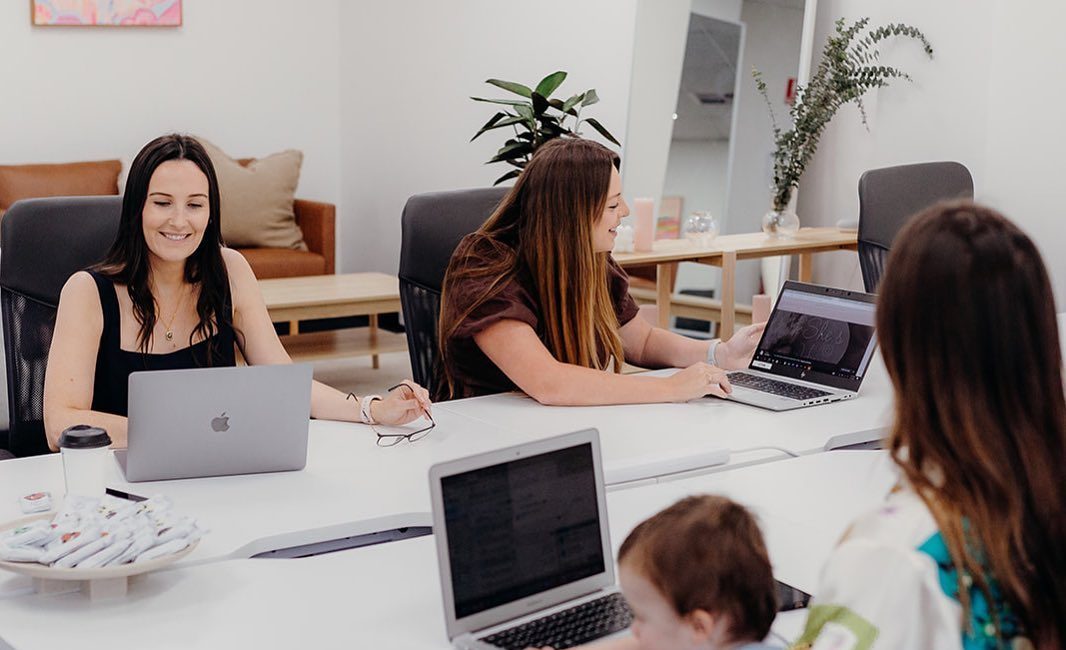 With her maternity leave coming to an end, Lauren Perrett's lightbulb moment proved to be a successful business venture that's made returning to work that little bit easier for parents.
After failing to find a suitable nanny for her son, coupled with day care centres being booked solid, a joke amongst Mrs Perrett's WhatsApp mother's group chat led to the start of BubbaDesk, a co-working business with built-in childcare in Erina on the New South Wales Central Coast.
"I sort of half-heartedly, sort of jokingly, said to my mother's group: 'We should hire a space and just pitch in for nannies to work together,'" Ms Perrett said.
"Then I was like, that's a business idea.
"So, I pitched it to my husband. He's a banker, so more risk averse than I am. I sent him a message and told him what it was… first of all, he ignored me, and he didn't reply, and I had to remind him and he came back with a response that was: 'That's not bad idea but hard to execute.'
"That was August last year and by October we were operating, so yeah, I did it anyway."
Bubbadesk is thought to be Australia's first co-working space with onsite childcare.
It has allowed Ms Perrett to return to her corporate job for a US-based technology company, with her young son in the same building, under the care of fully certified nannies.
The centre can accommodate up to 24 desks daily for workers, with a care ratio of one to four for kids aged from four months to four-years-old.
"I think what we're trying to promote is parents being able to do both roles ­– their job and parenting – really well," Ms Perrett said.
"This option is a really nice transition into day care potentially later on in their children's lives.
"Parents know they've got the flexibility in their work life that they can pop in and have a cuddle and a chat to the other parents throughout the day, which I do.
"We are hopefully shaking up the day care industry a little bit, and also shaking up what it means for flexible working."
Workers using space at Bubbadesk range from independent freelancers, designers and lawyers to marketers, Ms Perrett said.
Since the opening of the business late last year, it's already breaking even, and plans are in place to open more Bubbadesks in Sydney, focusing on the North Shore and the Northern Beaches, as well as regional areas.
Ms Perrett manages bookings, the marketing, and PR, while her husband is in charge of all the finance aspects, including payroll.
Word-of-mouth among local mums has proved to be a strong tool for Bubbadesk, with advanced bookings already in place for 2024.
Demand for co-working spaces continues
Flexible working spaces in Australia between March 2022 and 2023 increased 4.24% compared to the same 12-month period between March 2021-22, according to a report by global tenant advisory firm Office Hub.
The data also showed demand for flexible spaces in Victoria grew 10.75% in the same period, while demand in NSW increased by 6.7% and in Queensland by 7.2%.
Grant Philipp, chief executive and founder of Office Hub, said many companies post-Covid had come to their realisation that providing amazing spaces, free lunches, and other incentives were not enough to lure staff back into the office.
"There's only so much you can do in the traditional space before people go: 'Hey, I still want to work at home,'" Mr Philipp said.
Mr Philipp said many companies now choose to lease a 20-person office space where workers could "bounce in and out" as they needed.
"And it works – it's taken the liability off the books and its taking the risk off," he said.
Paul Chapko, JLL research director, said during 2022 there were two moves by flex operators that took up space in CBD markets in the first half of that year.
This included IWG (International Workplace Group) taking up 5960 sqm in Heritage Lanes in the Brisbane CBD, while Tank Steam Labs leased 3964 sqm at 24-28 Campbell Street in the Sydney CBD, he said.
---
Like us on Facebook to stay up to date with commercial property news: