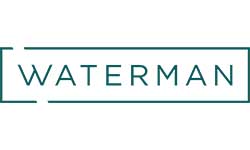 7 spaces available
Eastland
Level 3, Eastland Shopping Centre, 175 Maroondah Hwy, Ringwood, VIC 3134
New modern fit-out at Eastland

Easy access, Ringwood location

Competitive base-rate

Suites from 2 to 50 people
A new direction for your business, in the heart of Ringwood
Perfectly integrated into one of the fastest growing shopping centres, Waterman Eastland allows members to experience the convenience of having retail, dining and entertainment all at your doorstep.
With office suites to cater for teams of 2-50 people, flexible terms and all the amenity you will ever need, Waterman Eastland presents an opportunity to step into an inspiring, functional, productive, and supportive environment for your business.
YOUR FIXED ANNUAL RATE INCLUDES: (Billed on a single monthly invoice)
BASE RENTAL ($425/ m2 per annum)
Each of our brand-new offices enjoy an outstanding level of finish and are ready for you to move into.
BODY CORPORATE ($83/ m2 per annum)
With your office situated in the heart of retail you can enjoy all of the amenity but only pay a body corporate rate similar to a standard office.
ELECTRICITY ($46/ m2 per annum)
Our fixed and bulk monthly rate ensures cost certainty and peace of mind regardless of your usage.
INTERNET ($75 to $225 per month depending on the office size)
Access our unlimited enterprise-grade fibre-optic network with uncontested speeds of 1,000/1,000Mbps for as little as $75 per month for a 5-person office and up to $225 per month for a 50-person office,
PHONE ($75 per month for the first handset and $50 per month for all additional handsets)
Our fully managed and fully programmable enterprise-grade telephony services will take the hassle out of managing your communications. Your monthly fee includes unlimited standard local and national calls
SECURITY ($18 to $36/ m2 per annum depending upon the size of your office)
In addition to already being inside the shopping centre you will also enjoy the peace of mind of onsite security at a fraction of the normal cost.
CLEANING ($21 to $44 /m2 per annum depending upon the size of your office)
This covers regular cleaning of both your private space and the common areas throughout the centre. Just another service you receive at a significantly discounted rate and don't need to manage.
RECEPTION ($50 to $102 /m2 per annum depending upon the size of your office)
Allow our friendly reception team to welcome your guests, handle your mail, answer your calls and provide any administrative assistance you may need again at a fraction of what It would normally cost you.
MEETING ROOMS ($50 per month of meeting room credits)
Access to six purpose designed meeting rooms including a large boardroom and 35-person conference training room plus $50 per month of meeting room credits
COMMON SPACE ($478 to $4,475 per month depending upon the size of your office)
Starting from less than $6K per year, utilise over 1,400m2 of meticulously designed common space including quite work areas, lounges, and collaborative break out areas.
STAFF PARKING ($225 per month per car park)
Generous parking available onsite within the shopping centre.
WATERMAN MANAGEMENT FEE (between $110 and $505 per month dependent upon office size)
This covers the efficient running of the whole centre including management of contractors and support staff.
OFFICES ARE SELLING FAST, SO TALK TO OUR LEASING SPECIALISTS TODAY ABOUT THIS OPPORTUNITY.
Lease off the plan with fitout options available.
Located directly adjacent to Ringwood Railway Station
6 purpose-built meeting, board and conference rooms within.
Access to all Waterman centres for when you're on the road.
27km from Melbourne CBD and just 20 minutes from the Yarra Valley
Direct Shopping Centre access with private lift for Waterman members.
Over 60 dining options at Eastland with a café and member's lounge included
Over 5,000 parking spaces with free customer parking for up to 4 hours per day
7 spaces available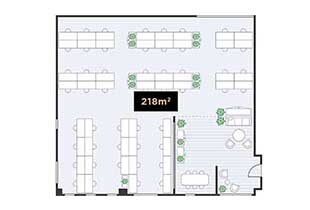 Suite 1
Floor area
218 sqm – 55 ppl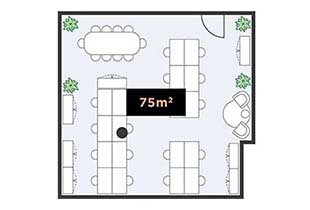 Suite 11
Floor area
75 sqm – 20 ppl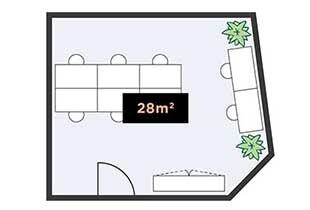 Suite 37
Floor area
27 sqm – 8 ppl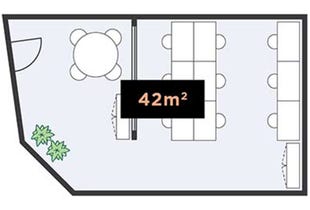 Suite 13
Floor area
41 sqm – 10 ppl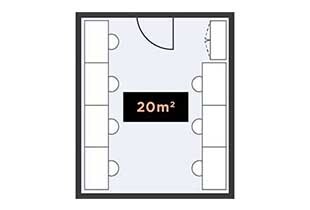 Suite 31
Floor area
20 sqm – 7 ppl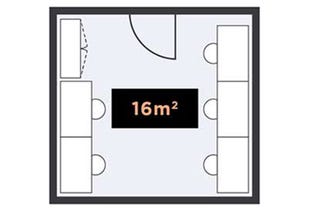 Suite 22
Floor area
15 sqm – 4 ppl
SERVICED OFFICE
Unlock the value of a Waterman Serviced Office
---
Reduce your square meterage to around 4–6m2 per person and lease only the space your team needs. With break out spaces, kitchen, meeting rooms, and other amenities at your doorstep, experience world-class office space at a fraction of what it would normally cost. Having all this amenity with no capital outlay, with a single fixed monthly bill takes the complexity out of maintaining your own office facilities.
FOR YOUR TEAM
All the ingredients for your team to thrive
---
Provide your team with a productive, safe and compliant working environment within a vibrant and authentic community of businesses ranging from solo entrepreneurs to global enterprises. Having a private space in Waterman Eastland means you get so much more out of your office. In the right environment businesses can attract the right talent, build meaningful connections with other businessowners, and increase productivity and employee satisfaction.
FLEXIBLE SPACES
Flexible spaces with flexible contracts is the future of work
---
From quiet areas designed to help you get the most work done, to vibrant open areas perfect for talking to and meeting new people, our purpose designed spaces are intentionally varied to give you even greater flexibility in your work life.
Rigid long-term contracts are a thing of the past, within the Waterman network there's always room to cater for what your business needs as you expand and change.

Michael Garrett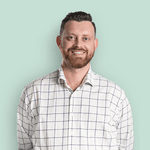 049.......
Email Agent
Email Agent about Eastland
Thank you for submitting your enquiry.
Your information and comments regarding Level 3, Eastland Shopping Centre, 175 Maroondah Hwy, Ringwood, VIC 3134 are on their way to Michael Garrett. If you do not receive a response within 48 hours, please contact Michael Garrett directly.
An error has occurred, please try again later.